New Servers / New Datacenter / Stellar Performance
2/7/2007

---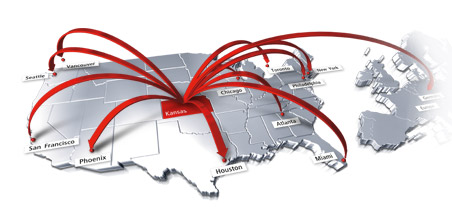 Our new Kansas City datacenter provides great performace for the entire US.

EFX internet is proud to announce the relocation of our servers to one of the country's newest, most-advanced Tier 4 datacenters.

2006 was a tough year for Binghamton businesses. Floods, power outages and loss of internet connectivity plagued businesses around the Southern Tier of New York and beyond. With unpredictable changes in our climate sure to continue, EFX internet made the decision to upgrade and move our main web and email hosting servers out of Binghamton to a new datacenter that sets unrivaled standards for rock-solid performance and reliability.

Our new server hardware is based on 64-bit Dual Core AMD Athlon64 X2 4200+ processors. Each server has plenty of RAM (2GB+) and storage (250GB+), mirrored (RAID-1) hard drives, and quick-turnaround spare parts available.

The new facility has redundant steel-reinforced walls, 8 backup diesel generators, a custom argon fire protection system, off-site backup, dual routers, cooling systems and gel battery power banks which ensure top-of-the-line security and stability. Regardless of the conditions outside, our servers will keep running and your website will stay online.

We are also excited about our new bandwidth quality. We are now connected to the internet by true 100 megabit lines to a 20 gigabit backbone. The bandwidth is more than 30 times what was available before. Our latency from Binghamton New York residential Road Runner is an average 48ms. This latency results in a round-trip handshake that is 40% quicker than any other regional provider.

What this all means to our customers is reliability, unprecedented speed, and superior performance even when under heavy load.

If you have any questions about our new infrastructure please contact us.


---