Binghamton Web Hosting News


Free EZ Armor Security Suite For RoadRunner Users
12/15/2005 (Source: EFX internet)

---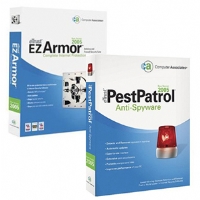 RoadRunner users can get a superb security suite with all the bells and whistles for absolutely free from RoadRunner. If you are in need of Antivirus, Firewall, Pop-up blocker, Anti-Spam, or Anti-Spyware check out this offer.

You probably didn't know it but you can get Computer Associates EZ Armor Security Suite including Antivirus, Firewall with pop-up blocker, Anti-Spam and the industry leading Pest Patrol Anti-Spyware for free if you are a RoadRunner user.

If you already have one or more of the components just deselect the full suite and choose which individual programs you want. Running 2 antivirus or 2 firewalls at the same time is not a great idea - it'll just slow your computer down. You may already have Zone Alarm (firewall) or Symantec (antivirus) on your system. But getting Pest Patrol Anti-Spyware alone makes this offer absolutely stellar. These days having 2 or more spyware detectors installed for periodic system scanning and cleaning is a must.

So, if you are a RoadRunner subscriber just visit www.rr.com and look for the Security button at the top of the page.

If you need help or would like to hire EFX internet to secure your home or business PC do not hesitate to contact us.


---

Additional Information:
http://www.rr.com